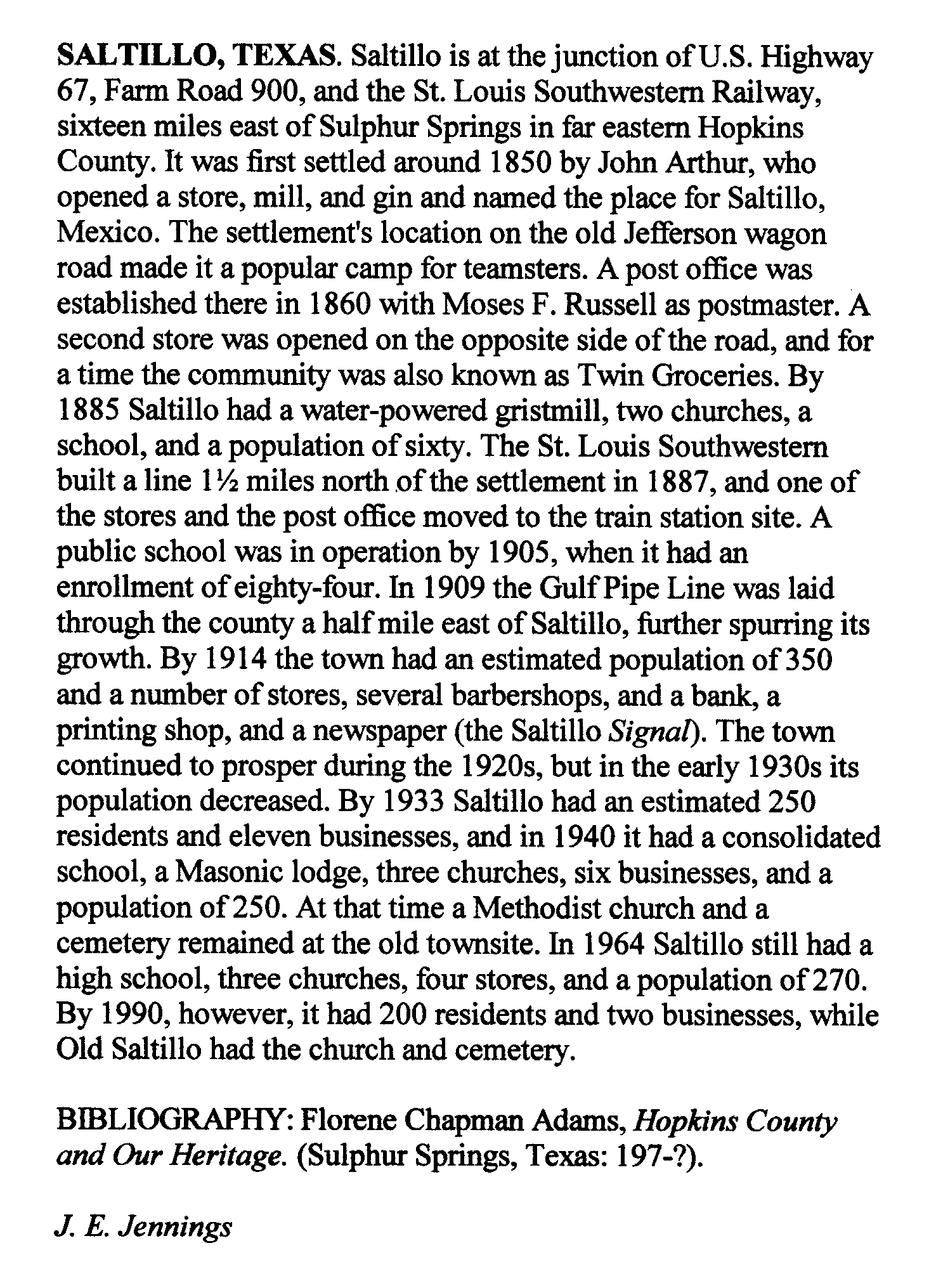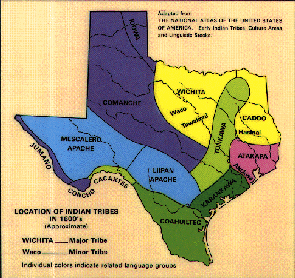 The Corleys of Saltillo: James Corley (b.?-d.1932) married Susan Simpson in Alabama on June 22, 1864. He rode with the 1st Alabama Cavalry during the Civil War. In 1867 James and Susan moved to Hopkins County Texas. The farm they settled on  was located about four miles southeast of Saltillo. at what was then "Old" Saltillo, and later called Twin Groceries.The house on the farm faced the County Line Road, on the line between Franklin and Hopkins Counties.

James and Susan had 8 children: Robert Lee, Mary, Wiley, Theodosia, Jmes Forest, John, Lilly, and Fannie. After Susan's death in 1898, James married Laura Martin. Their children were Cecil, Mabel, Velma, Mary, and Woodrow.

James and Susan's son Wiley was born in 1870. Wiley grew up and married Lillie Turner of Saltillo in 1891. They had at least one child, a daughter named Cora, born in 1892. On October 12, 1912, Cora married Joseph R. Minter, son of Robert Anthony Minter. Cora and Joseph Minter became parents of two sons, R.A. and LeRoy.

Saltillo Drug Store Opening

The opening party at the post office drug store went over with a big wow, even though a storm cloud threatening rain blew up about night. Twenty gallons of brick ice cream was given away by Rua Arthur, proprietor of the store. The Cumby Band came down and entertained with a number of pieces until eleven o'clock. Little Ruth Odom played coronet solo. Suth is only nine and never had a lesson on the horn in her life. Her mother plays the coronet and Ruth shows us she can too.

____________________

*This announcement came to me from Merri Coleman, who said she got it from the Arlington, Texas Library. I have yet to verify the date of the piece. I came to Saltillo in 1938, and the Drugstore/Post Office was in operation then. TJM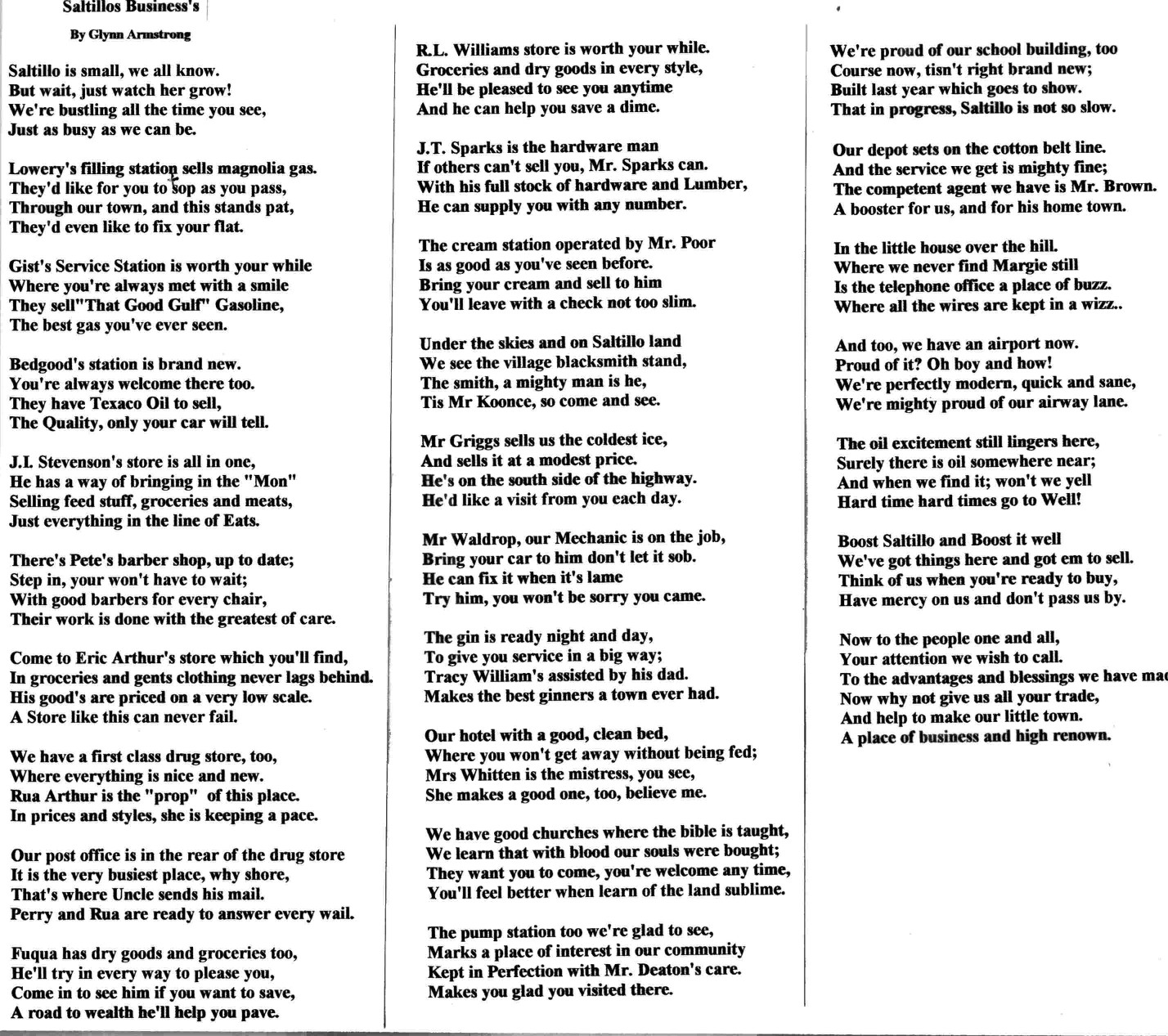 _______________________

The announcement and the poem above came to me from Merri Coleman who got them from the Arlington, Texas, library

J. T. Arthur, a longtime resident of Saltillo, dictated this history of Saltillo in 1937. It is very good, and it contains some information not found in the other brief histories of Saltillo and Old Saltillo.: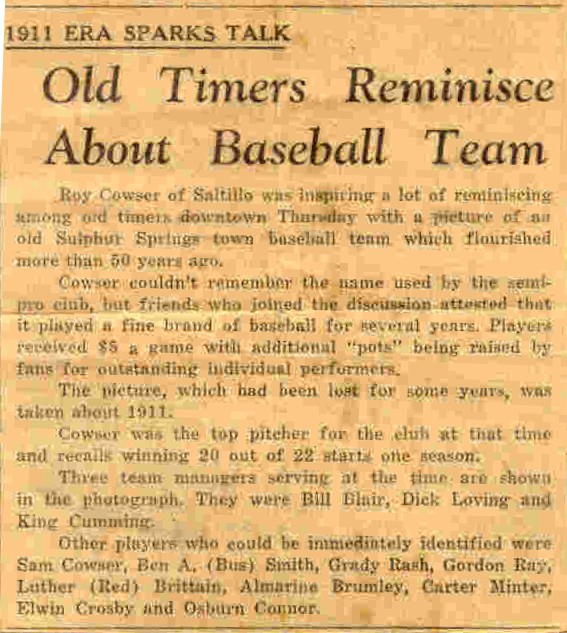 This piece appeared in The Hopkins County Echo around 1970.

                                                      The Old Bankhead Highway

U.S. 67 is the Old Bankhead Highway, Also known as the "Broadway of America." In 1922, this historic highway was the principal transcontinental route for motor traffic across the United States from Washington D.C. to San Diego. It passed right through downtown Saltillo, and still does!

From the Texas Historical Commission at:

http://www.thc.state.tx.us/heritagetourism/intineraries/htmtvernon.html



Photo courtesy of Reba Gulsby of Universal City, Texas